Vortex Tube Based Panel Cooler, Compact, reliable, quick install.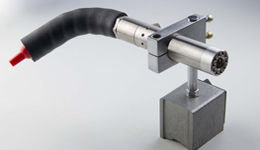 Stainless Steel Cabinet Coolers are ideal and effcetive replacement of common fans used in electrical panel cooling. Using vortex tube, digital thermostate and solenoid valve, panel coolers can be used to cool entire panel or cold air may be targetted on heat producing part of control panel.
Panel coolers has exhaust valve so as to prevent over pressure in panel board. Hot end of the tube is out side the panel and hot air is exhauseted to atmosphere. To reduce noise hot end is provided with silenced.

Tempreature of cold air can be controlled by adjustment screw and when desired temperature is attained within the panel, solenoid valve cuts off compressed air supply to optimize compressed air comsumption.
Available Size : 2000 bThU / Hr.
MOC: Stainless steel