Vortex Tube Based Cold Air Gun, Compact, reliable, quick install.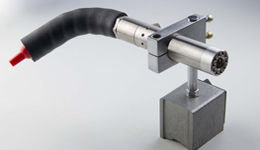 Cold air guns are ideal solution for the application where coolants can not be used for machining causing heat built up, failure of cutting tools or reduced productivity due to lower cutting speed and feed to avoid excessive heat built up.
Cold air guns are having magnetic base to ensure convenient mounting at desired location and flexibility. Cold air gun's hot end is suitably muffled to prevent operator touching it and flexible cold air hose can precisely target cutting edge to get optimum cooling.
Available Size :
| | | | | |
| --- | --- | --- | --- | --- |
| Size | Model No. | Air Consumption | BTU/Hr. @ 100 PSIG | Kcal / Hr. @ 6.9 |
| Small | C7502 | 2 SCFM (57 SLPM) | 145 BTU/Hr. | 37 |
| Small | C7504 | 4 SCFM (113 SLPM) | 275 BTU/Hr. | 69 |
| Small | C7508 | 8 SCFM (227 SLPM) | 560 BTU/Hr. | 141 |
| Medium | C7510 | 10 SCFM (283 SLPM) | 700 BTU/Hr. | 176 |
| Medium | C7515 | 15 SCFM (425 SLPM) | 1100 BTU/Hr. | 277 |
| Medium | C7525 | 25 SCFM (708 SLPM) | 1800 BTU/Hr. | 454 |
| Medium | C7530 | 30 SCFM (850 SLPM) | 2060 BTU/Hr. | 519 |
| Medium | C7540 | 40 SCFM (1133 SLPM) | 2800 BTU/Hr. | 706 |